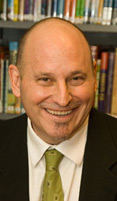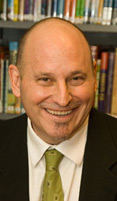 The Children's Book Council together with the Center for the Book (in the Library of Congress) created the position of National Ambassador for Young People's Literature, back in 2008, and appointed Jon Scieszka. That's right, the author of The True Story of the Three Little Pigs, The Stinky Cheese Man, the Trucktown series and his most recent picture book, Robot Zot. As a children's book author himself and a former schoolteacher, he made the ideal first Ambassador. Plus, he's very funny.
As a child, Jon Scieszka was not very excited about reading – until he found a couple of books he thoroughly enjoyed. He argues that we need to expand what we think of as "reading." Here is Jon Scieszka's five-point plan for getting children to read:
1. Expand your definition of reading beyond fiction and novels. Lots of kids love to read non-fiction, humor, comic strips, magazines, illustrated stories, listen to audio recordings, and visit websites. It's all reading. It's all a good way to become a reader.
2. Let kids choose reading that interests them. It may not be the reading you like, but making the choice is important to kids.
3. Be a good reading role model. Talk to your kids about how you choose what you read. Share your reading likes and dislikes. Let kids see you reading.
4. Try not to demonize TV, computer games, and new technologies. These media do compete for kids' time, but they are not the "bad guy." Help kids become media literate. Show them how different media tell stories in different ways.
5. Think global. Act local. There are all kinds of good people and worthy groups working to help kids read. Teachers, librarians, and booksellers are a wonderful resource. Ask them for book recommendations. Join a local literacy group.
I like Jon Scieszka's suggestions because they encourage us as adults to talk to children about books and reading, to talk about what we enjoy reading and to invite them to tell us about their likes and dislikes when it comes to reading. That gives us a greater success rate in suggesting books that they're likely to connect with, and getting kids to connect with books they love will help them develop into lifelong readers.
The current Ambassador is two-time Newbery Medalist Katherine Paterson. You'll hear more about her here soon…
With all my best,
Jenny
Editor, Readeo
jenny@readeo.com