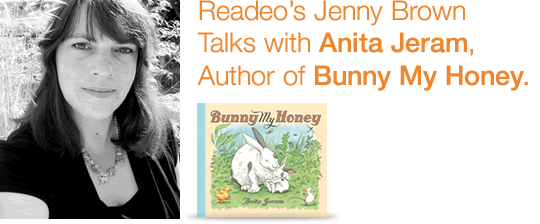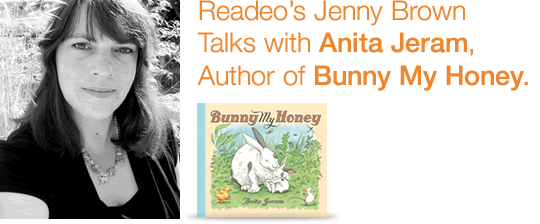 With Bunny, My Honey, author and artist Anita Jeram introduces Mommy Rabbit and her baby, Bunny, who "looked just like his mommy, only smaller." (If you look closely, you can see that they even have the same brown ear, and a brown spot around the same eye.) When Bunny gets separated from Mommy, it is not long at all before he hears her call, "Bunny, my Honey." We asked Anita Jeram where she got the idea for Bunny, My Honey, and how she does her artwork.
Did the idea for Bunny, My Honey, come out of your own experiences, either as a child yourself or with your own children?
I do remember the fright of "losing" a child in a supermarket! Even when it turns out they have just wandered to the next aisle. But the first few lines of this story came to me one night, just as I was dropping off to sleep!
We liked the way that there's really only one picture where Bunny is completely alone.
It's usually the case that children are not really that lost, they've just lost sight of who they were with. I wanted to reassure the reader by showing where Bunny was in relation to his mommy.
How do you work on your pictures?
Usually I sit at my drawing board with a blank sheet of paper, and gaze out of the window for ages (I got into trouble a lot for this at school), then I draw with a dip pen and ink, and color in with watercolor.
We noticed that you use just a few colors in Bunny, My Honey, mostly earth tones.
I do like brown and green! I guess because I draw a lot of animals, and natural settings, those are the main colors in my paintbox.
Do you plan out the size of the words, too? We liked the way the words "Bunny, my Honey!" got larger as Mommy got closer.
No, that's down to the brilliant designers at my publisher.
Is it different working on your own story than it is when you're illustrating, for example, Guess How Much I Love You, with words by Sam McBratney?
A little different, because another author has their own idea of how the pictures should look for their story, so they give their ideas too.
What advice would you give to children who would like to be an artist like you?
If you would like to be an artist, you must already love drawing, so just keep on doing it and enjoying it. Even if you don't end up earning a living from it, art is great fun to do all through your life.