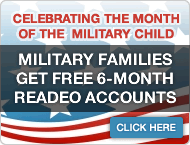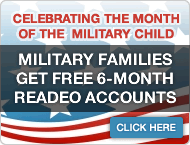 Hello everyone!  I just wanted to take a second to make you aware of something you may not have heard of.  Did you know that in addition to being the home of April Fools and Easter, April is also the Month of the Military Child?  The Month of the Military Child was created to recognize military children and the sacrifices they make while their parents serve in the military.  More than 1.7 million children under the age of 18 have at least one parent serving in the military!
All 4 branches of the military make special efforts this month to recognize and celebrate military children for the largely unnoticed sacrifices they make.  At Readeo, we have a unique opportunity to support these children.  In honor of the Month of the Military Child we will be giving away free 6-month accounts to all military families.  You will have full access to our site to allow you to connect with your children even when you may be separated by long distances.
To get your free account, simply email mil@readeo.com with a basic description of your military service.  If you aren't in the military but know someone who is, make sure and let them know about this exciting opportunity!