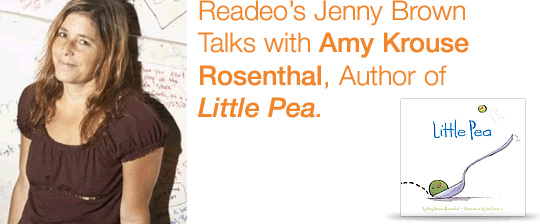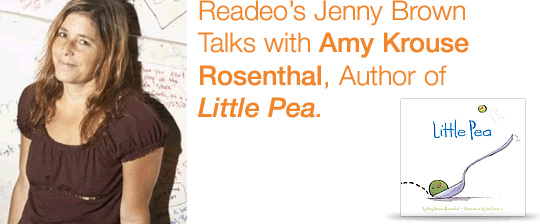 Little Pea, the story of a pea who would rather have spinach than candy any day, began as a naptime story that Amy Krouse Rosenthal told to her daughter. Since then, Little Pea has been joined by other unusual friends, such as Little Hoot, an owl who likes to snuggle in bed instead of stay up late, and Little Oink, a pig who takes pride in his tidy room. Here she talks about the creation of Little Pea.
What was the inspiration for Little Pea?
Little Pea started off as a story I made up for my then four-year-old daughter at naptime. [She's 13 now!] I told Little Pea to her and I thought, "Hmmm, this might make a good book."
We loved it when Papa Pea comes home and flings Little Pea off of the spoon. That part of the story makes it clear what the artist, Jen Corace, should do. But for the picture of Little Pea "hanging out with his pea pals," it seems like there's a lot of room for the artist to imagine a scene. Did you give her any direction for that one (like, "Please create a playground scene here")?
I often make a mocked-up dummy [a small version of what the book might look like, with the story and the pictures] with my manuscripts. Sometimes I can't, but with a book like Little Pea where the characters are circles, I could. So there was a blueprint, and Jen was then able to "plus it" a millionfold. I had the spoon picture all drawn out. But for the other scene, I just had Little Pea "hanging out" with his friends. Jen brought the playground to life, with the hopscotch and swings—that's brilliant.
What about the "yum  / yum / extra yum" series when Little Pea is eating his spinach?
That, along with the Fig. 1, Fig. 2, Fig 3 [short for "Figure 1, Figure 2…, like you might see in an artist's notebook], were in the dummy.
Did you once say that the idea for your book Duck! Rabbit! resulted from a school visit you made with the artist, Tom Lichtenheld?
Tom and I were at a school presentation for The Okay Book, and we were doing stuff on an easel. We showed the kids that if you turn the word "OK" on its side, it looks like a person. Then Tom drew the Duck/Rabbit image. He started asking the kids, "What does it look like when you look at it this way? What does it look like when you turn it that way?" I asked him about it, and he said, "It's been in my brain for 30 years. I learned it in college." I immediately heard in my head two kids debating it. It was the right moment, when we could bring our orientations together, and could hear the voices of the children as the voices of Duck! Rabbit! It was waiting all those years to be given a platform to speak.
Once you had Little Pea in mind, did the ideas for Little Oink and Little Hoot follow quickly?
It never occurred to me that this was going to be a series. Then my editor, Victoria Rock, gently nudged me to think about a sequel, and I thought, "What would a sequel look like? Little Pea Goes to School?" I was really stuck until I hit on the concept that the story line was the "inversion tale" [the idea of turning an ordinary situation upside-down]. Then I thought, "What else could I flip?"  An owl would want to go to sleep, not stay up late. Once I had the question, the answer was obvious. After I wrote Little Hoot, my sister came to me with the idea of a pig that wanted to be neat [which became Little Oink].