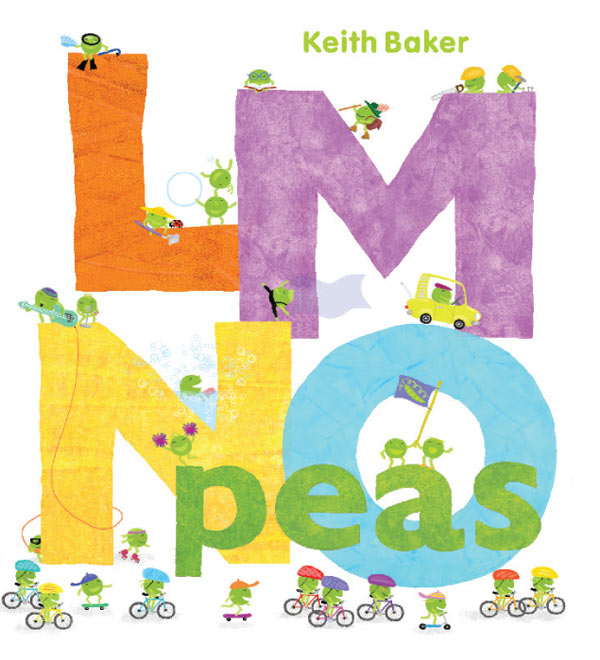 In L M N O Peas, Keith Baker created a cast of pea characters to lead readers through the alphabet. Yes, peas, as in the kind you eat. His peas blast off into space in "astronauts" gear, wear helmets as "bikers," roast marshmallows as "campers," all the way to studying animals as "zoologists." Here Mr. Baker talks about how these entertaining "pea-ple" first popped up.
How did you come up with the idea of peas, to lead us through the alphabet?
That came from hearing "L-M-N-O-P," every time I heard a kid say the alphabet. I thought, 'Wouldn't that be funny, to have peas throughout the alphabet?' I was sharing this with some teachers who taught pre-readers, and they said that kids don't understand that L M N O P are actually five distinct letters.
Did you make a list of all the things the peas could do, for each letter?
I did start making lists and lists and lists. I didn't want them to be all occupations, so I included campers and eaters and bathers, those sorts of things–occupations, and also identities that we assume. From there I had to start looking for the rhyme.
What was your next step?
I knew I wanted big simple letters because that would emphasize the smallness of the peas. Once I decided which occupations to use, I thought, 'How can the peas adapt to the letter form without obscuring it?'
It looks like you used a sponge sometimes (like with the letter A) and a wavy brushstroke for "S."
I made all these painted papers for the collage work in my books Little Green and Quack and Count. For this book, I created digital artwork, so I scanned in some of those painted papers, and then I cut out the letters electronically in a Photoshop program.  Those letters became the backdrop, and then I began drawing the peas electronically. I created every single one, one at a time. It was really fun to create personalities with the peas. Half have noses and half don't. I couldn't decide. It took days and days to think of their identities—the little booties and eyeglasses and hats, playing with their hairstyles…
We liked the Elvis hairdo.
That's my favorite!
Is the biker pea who's in the lead on the "B" spread the same one who crosses the finish line first on the "F" page?
You've got very good eyes! That was one of the final details I added. At first when I was working on the "flaggers," I thought I'd have a car race, but then I thought, 'I don't have any cars!' And so I went to the bikers.
On the "P" page, we liked how the leak that the "plumbers" are fixing becomes a pool for the "parachutists."
That probably didn't happen until the 4th or 5th mutation of the book. I thought, 'I could make that leak a lot bigger and then the parachutists can land in that.' One of my favorite things is the cheerleaders by the quarterbacks [for "Q"].
Is there a ladybug in every picture?
Yes. Except on the title page, and I swear it was in there and I don't know where it is.
Maybe she flew away.
Read LMNO Peas for free!
As the Book of the Month, Readeo users with either Guest or Member accounts have access to LMNO Peas for reading and BookChatting. To try it out, just sign up for an account and select it from the Library or Featured Book Shelf!