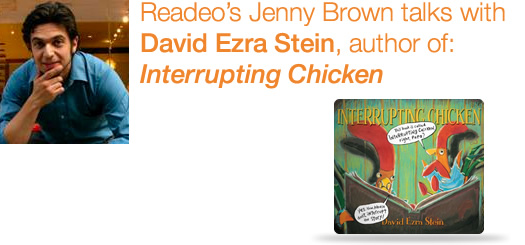 David Ezra Stein received a Caldecott Honor for his illustrations in Interrupting Chicken, which he also wrote. It's about a little chicken whose father is trying to read to her, but she keeps jumping in to give advice to the characters! Will poor Papa ever get to finish a story? (Sound familiar?) We asked the author-artist about his inspiration and artwork for this picture-book celebration of reading aloud together.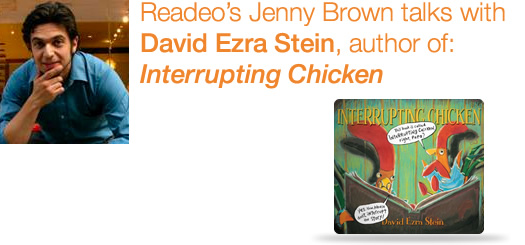 We liked all the details in the picture before the story starts, the "title page." Are these clues to the little red chicken's energetic personality?
Yes. All the details in the title-page art speak volumes about the house and who lives there. We see that the papa is rather formal and that his stately, old-fashioned home has apparently been "accessorized" with a child's paraphernalia. We can imagine what happened just before we came upon the story. An enthusiastic chicken and her dad had dinner together. We can almost hear the echoes of the little chicken as she told her dad all kinds of things, all the while spilling pasta everywhere. Our brains are filling in gaps like mad at this stage. When we get to the actual text, we are ready for the present story to begin.
When Papa says to his little red chicken, "And of course, you are not going to interrupt the story tonight, are you?" you let us know that the feathered hero may have broken into the story once or twice before. Was it important to choose stories you thought children would know well?
A good book works on many levels. It helps if a child knows about these stories. But a chicken promising to be good and then jumping out and making her dad mad is funny in itself. I chose stories that had a crux moment, where one single interruption would really ruin everything!
We liked the way the artwork in the storybook tales—"Hansel and Gretel" and the others—had an old-fashioned feeling, with just a dab of color (red for the wolf's coat and Little Red Riding Hood's bonnet and bloomers, for example). Then when the little red chicken enters the storybook, she's all Technicolor! How did that image of the two worlds crashing together come to you?
Thanks. I really enjoyed trying to find an old-fashioned style that was still "me" and still loose. I definitely used the contrast in styles to make the chicken's entrances jarring. But I didn't start out knowing that that was how I was going to paint it. The final style you see came from lots of experimenting with the art.
The reactions of the storybook characters to the little red chicken's entrance are hilarious! Especially the birds' reactions in Chicken Little.
Hee hee. I really enjoy the birds' reactions, too. There is something funny about a fussy bird wearing headwear and then being startled. Go figure.
We liked how little red chicken's story, "Bedtime for Papa," has her crayon drawings and stickers.  Were the main illustrations of Papa and his little chicken also done in crayon? How did you do the storybook illustrations? We noticed you also used "tea" in your artwork.  (Did you know that Peter Reynolds also uses tea? You're the only two I know of that use tea!)
Yes, there's a lot of crayon in the main art of the book (Especially in the wallpaper). It is added over watercolor washes. The chickens themselves are mostly watercolor with crayon and pencil highlights. In the storybook I used pen and watercolor. And of course, tea, to give it that aged look. I didn't know Peter Reynolds used tea. I love his work. Very inspiring and pro-creativity.
Where did you get the idea for an "interrupting chicken"? Do you have your own "interrupting chicken" at home?
The book is based on the knock-knock joke:
-Knock knock!
-Who's there?
-Interrupting chicken.
-Interrupting chi— BWOK BWOK BWOK!
I do have an interrupting chicken at home. But he wasn't born yet when I was working on this book. He toddles over to me now with a book and asks me to read it. I guess my book predicted the future!

What's the best thing about bedtime stories?
When someone reads to you, it means they love you. It's a wonderful way of being together!
With all my best,
Jenny

Jenny Brown is the editor for Readeo and oversees all book selection for the site. She has worked in the children's book world for the past 25 years, holding positions with HarperCollins and Scholastic, and was the Children's Books Reviews Editor for Publisher's Weekly.  She currently writes for School Library Journal, Kirkus Reviews, and Shelf Awareness. Jenny graduated from Princeton University. You can read more from Jenny on her Web site, Twenty by Jenny.