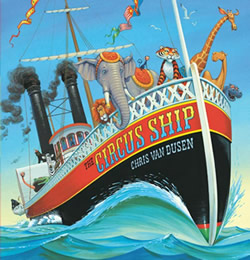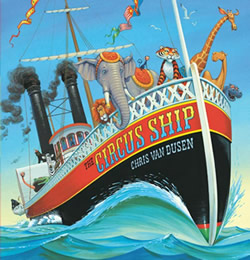 We are very excited to present this month's Featured Book of the Month: The Circus Ship by Chris Van Dusen.  Each and every Readeo guest and subscriber can enjoy this beautifully illustrated story that children are sure to love!

The Circus Ship Summary:
The opening lines set the tone for this exciting adventure for animal and circus lovers alike: "Five miles off the coast of Maine and slightly overdue, a circus ship was steaming south in fog as thick as stew." Sumptuous illustrations show the bereft 15-creature crew post-shipwreck, after they swim ashore to a small island. Initially the residents are shocked ("There's a tiger in the tulips! There's a lion on the lawn!"), but after the tiger rescues a child from a burning building, the islanders adopt the animals. But can they hide the creatures when the circus ship captain comes to round them up?
According to School Library Journal, "Van Dusen's illustrations burst with color and energy and utilize perspective and texture to add drama and humor. The spread of the animals in 'hiding' is pure genius."  It is no wonder The Circus Ship is a 2009 Oppenheim Toy Portfolio Gold Award Winner!
Read The Circus Ship for free
As the Book of the Month, Readeo users with either Guest or Member accounts have access to The Circus Ship for reading and BookChatting. To try it out, just sign up for an account and select it from the Library or Featured Book Shelf!