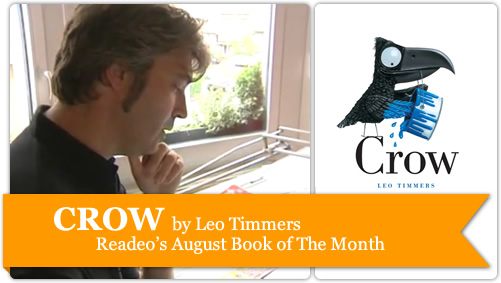 Can you believe the summer is almost over!? Time is flying by and school is almost here—maybe it already is for some of you.
Whatever schedule you might be on, children all over the world are about to step into new classrooms, onto new playgrounds, and into new adventures. And when they do, they'll be meeting new people and making new friends.
Most of us remember the first day of the new school year as an exciting, if not intimidating, time—unsure of ourselves and our new surroundings, and hoping that we'll fit in. Our August Book of the Month tackles this situation head-on through the story of Crow.
With his "pitch-black" feathers and towering height, our friend Crow looks scary to the other colorful birds around. In an effort to make new friends, Crow tries to be what he thinks the trio of birds wants him to be, and discovers he just needs to be himself.
With beautiful artwork and a good lesson for all of us, renowned illustrator Leo Timmers shows us that we each have our own talents to offer, and that being ourselves is really the only way to be. Crow is sure to be a favorite among children who may soon find themselves in similar situations as they head back to school to meet new teachers and classmates.
Read Crow free throughout the month of August as our featured Book of The Month. Sign up as a Free Guest for access to this and other great children's books—and read them with the children you love, no matter how far away they might be.
Special thanks to Clavis Publishing for making Crow available for free all month long on Readeo.