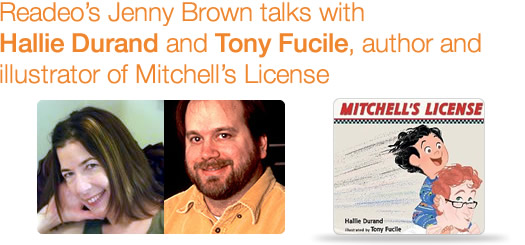 In Mitchell's License, a boy who's not ready to go to sleep gets to drive his dad to bed. Author Hallie Durand wrote some early chapter books based on her childhood experiences starring Dessert Schneider (including Dessert First). Mitchell's License is inspired by her own children's bedtime rituals with their father. Artist Tony Fucile started as an animator of films like The Incredibles. You may recognize his artwork from Let's Do Nothing! in our Readeo Library. We hope you'll enjoy reading and bookchatting with this great new children's book this month! Here author and artist discuss their first collaboration.
Hallie, where did this idea come from?
Hallie Durand: It was probably about a decade ago that my husband put my daughter on his shoulders, and he called it "Remote-Control Dad." He let her pull his ears to turn and pull his forehead to go upstairs. I'm a big fan of Pete's a Pizza [by William Steig] and The Daddy Mountain [by Jules Feiffer], and I thought this would make a good children's book.
How did you come up with all those great details, like his dad's ear being the way to put the car in reverse?
Hallie: When we played it at home, my husband, Michael, would pick the kid up, put him or her on his shoulders, and take them to bed. When Tony first saw the book, the car was an automatic. I'd gone halfway to where we are now. We had an awesome conference call with Chris Paul, our art director, and Karen Lotz, our editor, where they encouraged me to go as far as I could. We did the sippy cup and the speed bumps, and I really wanted to put a trunk in, but I couldn't make it work. None of that stuff was  in the Remote-Control Dad game we played at home.

We liked how unflappable the father, er, car is.
Tony: When I first read, it I thought, "Well, the dad's a patient man." I think I'm a little bit like that. I can take a beating, so it came pretty natural to have him unflappable.  My kids are 7 and 9, they still do that stuff, and now it hurts.
We thought it was funny when the car goes so fast that it runs into a wall ("Bonk!").
Hallie: I have to give credit to my husband for that. He's so good at making a loud noise and pretending that he hit the wall–that was part of the original game. Are you good at that Tony?
Tony: I do that all the time. I used to hit the wall with my fist and then let my head go back so it looks like I made contact.
How did you create the illustrations, especially the one of the "two-way traffic"?
Tony: Originally, everything was designed on paper, with colored pencils and stuff, and I experimented on this program called "painter." I'd draw directly on the [computer] monitor using Wacom tablets, so it feels like you're using natural media. It's less messy, and you can control the color and break things out in different ways. I could separate the graphic elements, like the arrows on "the road."
I ended up pulling away a lot of detail. When there was too much stuff it distracted from the road. In that picture where Mitchell grabs the flashlight, you start with that and then fill in. Chris Paul has taught me a lot about negative space. It's a huge part of the book visually.
The only real conversation in the book occurs when Mitchell wants to stop for gas (cookies) and the car says, "No." But in the end, Mitchell gets the gas station of his dreams. How did you come up with that, Tony?
Tony: Just from a color standpoint and a stylistic thing, you can see it in his room on the page before. I wanted it to be a lot brighter, more cartoon-like. The rest of the book is fairly representational. When you see a chair, it looks like a chair. Then in that last page it's a little more stylized. That's supposed to hark back to Dad with the reds and browns like Dad's hair, and the painting on the [hallway] wall earlier.
Hallie: Isn't one of your kid's paintings in it, Tony?
Tony: Yes. That's my son Eli's octopus, and my daughter did the heart. Those are literally their drawings scanned and placed in there.
Jenny Brown is the editor for Readeo and oversees all book selection for the site. She has worked in the children's book world for the past 25 years, holding positions with HarperCollins and Scholastic, and was the Children's Books Reviews Editor for Publishers Weekly.  She currently writes for School Library Journal, Kirkus Reviews, and Shelf Awareness. Jenny graduated from Princeton University. You can read more from Jenny on her Web site, Twenty by Jenny.