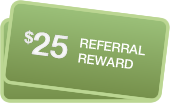 Refer-a-Friend, Earn Cash.
Would you rather have $25 or good karma? Share Readeo with others and you'll get both!
Post your referral link to Twitter and Facebook, email it to your contacts—anybody you think might enjoy using Readeo with their families and you'll automatically earn $25 when someone you invited joins Readeo as a Member.
It's quick, it's easy, and everybody wins. There's no limit on how much money (or karma) you can earn, so start inviting and start earning!
More Details?
We're giving $25 for every person you refer when they sign up and are charged for a Readeo Member Account. It's our way of saying "thanks" for spreading the word and helping everyone stay connected through books! There is no limit to the number of people you can invite or the amount of money you can earn.
How do I participate?
Share your personalized referral link or send invitations directly from this page. When someone clicks your link, we'll know you sent them.
What are the rules?
If someone buys a Readeo Membership within 30 days after clicking your link, we'll notify you of their first purchase and automatically send you a check at the end of the 30-day period in which they subscribed. You can refer as many people as you like, and you'll get $25 for each. Check your balance by clicking Manage Account > See Referrals. Your check will be sent to the address listed on your Manage Account page. If you do not have an address listed, we will hold your check until you update your account.
What are you waiting for?
Go get your referral link and start sharing the love!