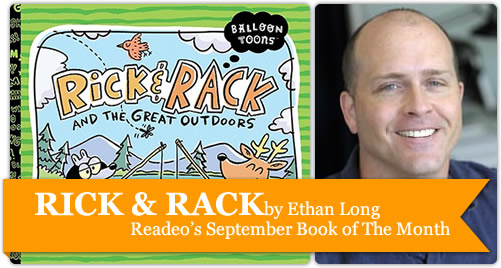 September is the perfect time to get outside and enjoy the great outdoors before fall and the cool temperatures set in. Rick & Rack and The Great Outdoors illustrates some of the fun there is to be had in spending time with friends, family, and Mother Nature.
In this entertaining series of short stories by expert illustrator and author Ethan Long, Rick the moose invites his friend Rack the raccoon to fish, hike, and canoe together. Each short story comes with a small (and sometimes big) surprise and humourous resolution.
Following the style of a comic strip, Rick & Rack is a great book for early or timid readers. With the simple story line, descriptive illustrations, simple text and engaging stories, readers have mentioned it's perfect for reading to your children, or allowing 6-8 year old readers to have fun reading aloud to you. The stories are sure to entertain both child and adult as you follow the adventurous moose and timid raccoon on their trip through the woods.
A special thanks to Blue Apple Books for providing September's Book of The Month.