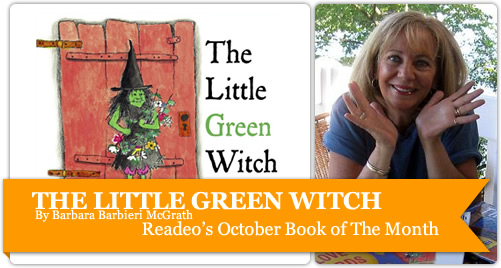 The month of October means digging out warm sweaters, enjoying the brilliant golds and blazing reds of changing leaves, plump harvest pumpkins, crisp apples and pink cheeks. And of course, October brings the excitement and anticipation of a very special holiday–especially for children–Halloween.
Our October featured title, The Little Green Witch by Barbara Barbieri McGrath and illustrated by Martha Alexander, pays homage to the classic tale, "The Little Red Hen," but with a humorous and spooky twist. Children will enjoy following the little green witch as she completes her "unhousework," her list of unconventional chores that include hanging the cobwebs, dirtying the laundry, and pulling those "unsightly flowers" from the garden.
Alas, our little green witch works alone at her tasks, despite her continual requests for help from her lazy companions. As you BookChat, invite your little readers to come up with their own list of "unhousework", or ask older readers whether they can guess the surprise ending. With delightful illustrations and expressive descriptions (have you ever "grouched," "grumped," "groaned" or "growled" about doing your chores?), this book invites multiple readings. (And while you're at it, can you spot the Mickey Mouse mug, the discarded eyeglasses, and the hen-shaped cookie jar?).
Please log in to our Facebook page and tell me how you enjoyed The Little Green Witch –and share any of your own reading activities! I'd love to hear from you.
A special thank you to Charlesbridge for providing this entertaining book–for free!–through the month of October.
Log in today and enjoy some of our other featured titles offered free throughout October:
And don't miss our other seasonal titles:
Hello, Bumblebee Bat, by Darrin Lunde, illustrated by Patricia J. Wynne
Mercy Watson Princess in Disguise, by Kate DiCamillo, illustrated by Chris Van Dusen
By the Light of the Harvest Moon, by Harrriet Ziefert, illustrated by Mark Jones