Have you ever wondered if one of your inspirational female figures is featured in a children's book? Or wondered about women who had the courage to be their own cheerleaders and inspire a change in the world?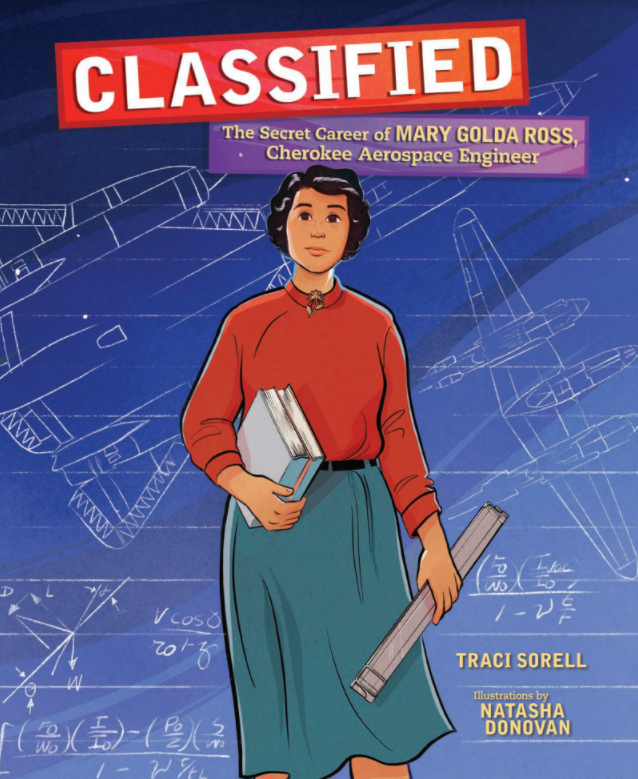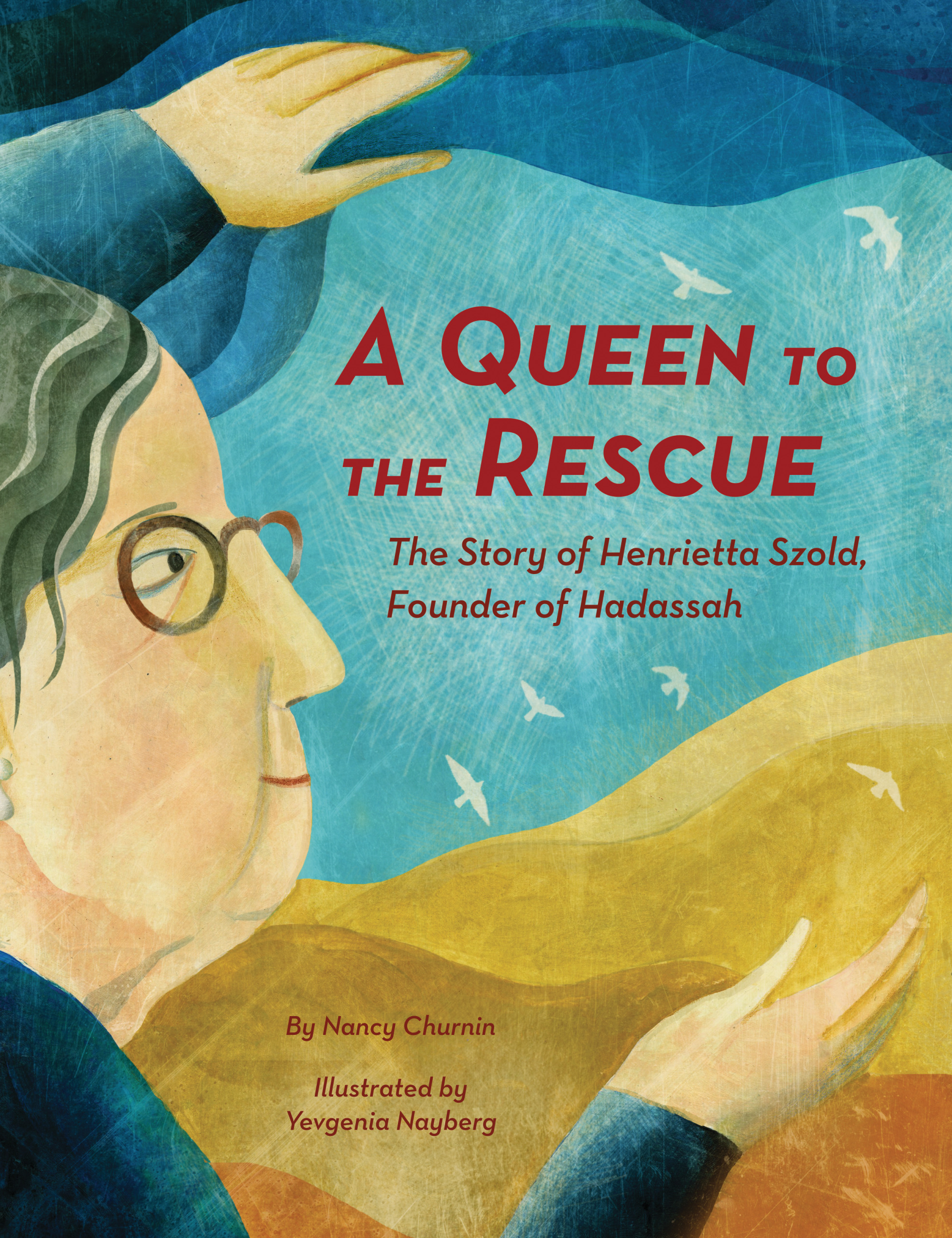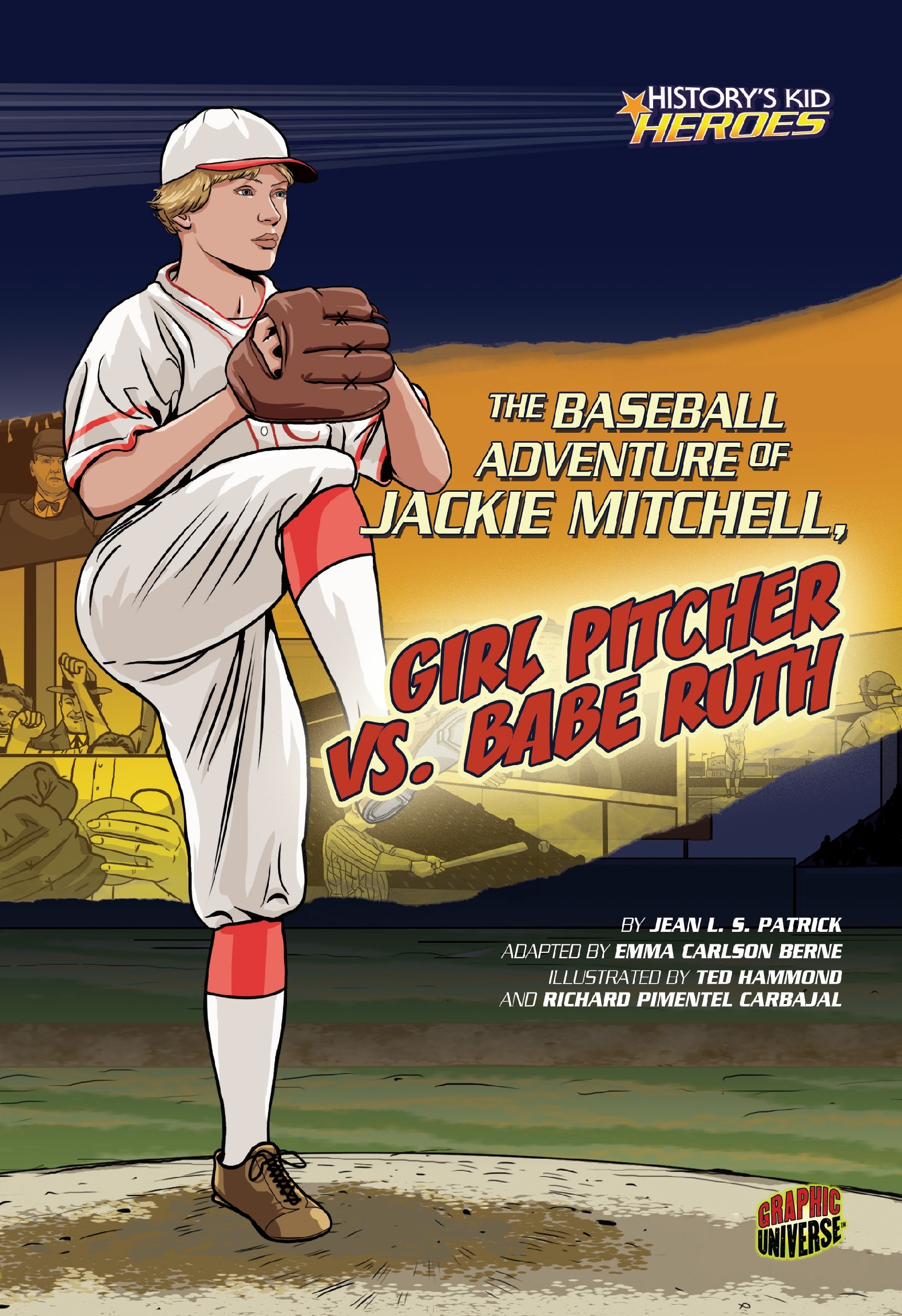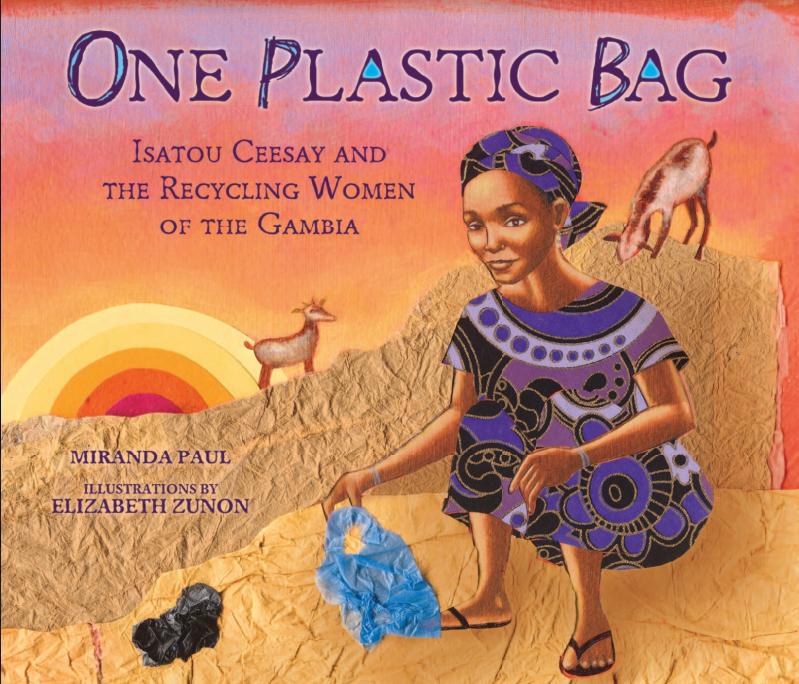 For the month of March, we celebrate women's contributions to events in history and contemporary society all over the world! The women featured in these books held on to their aspirations and values to make a difference in their communities.
Let me introduce you to the following 5 women who were determined to make their ambitions come true and in return created a path for their communities and other women's visions to become reality. From a Cherokee aerospace engineer to a humanitarian leader to a baseball player, we celebrate their courage to be their true selves and their fearlessness while pursuing their dreams.
1. Classified: The Secret Career of MARY GOLDA ROSS, Cherokee Aerospace Engineer
By Traci Sorell | Publisher: Lerner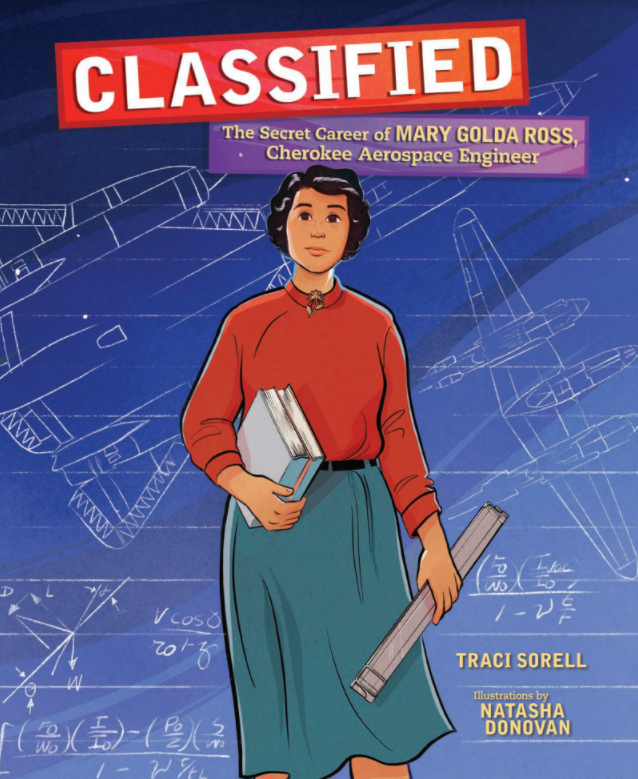 Let's focus on "taking the theoretical and making it real."
In Classified: The Secret Career of MARY GOLDA ROSS, Cherokee Aerospace Engineer, we learn about the journey of a young woman's career in math and science before becoming an aerospace engineer. During the 1920s while Mary was growing up, women were not encouraged to like or excel in math. Despite this, Mary pursued her love for math and pushed to be the best even if some did not approve. When she attended a state teacher's college at the age of 16, the boys refused to sit next to her because she was the only girl in math class. Experiences like these encouraged Mary even more to major in math and not stop there! After graduation she taught math and science to high school students and later became the girls' adviser at a coed boarding school in Santa Fe, NM. While at the boarding school, Mary inspired the next generation of Pueblo and Navajo girls to learn and excel in math and science. And Mary did not stop there!
In 1941 when the U.S entered WWII, Mary left her teaching career and moved to Los Angeles, CA to become a mathematician for the Lockheed Aircraft Corporation. As she felt she could do more, Mary went back to university to study engineering to design and build aircraft and spacecraft for the company. Although only men served as engineers at the corporation, Mary was not intimidated. She balanced her job duties and homework to become Lockheed's first female engineer! Throughout her life, Mary kept true to her Cherokee values to support herself and her community. She not only pursued her love for math and science for many years, but she also never stopped recruiting American Indians, especially young women, to study math and science and helping them become engineers. For ages 7-11, this book will encourage children, especially young girls, to be strong and fearless as they pursue their dreams and make them a reality. 
2. A Queen to the Rescue: The Story of Henrietta Szold, Founder of Hadassah
By Nancy Churnin | Publisher: Lerner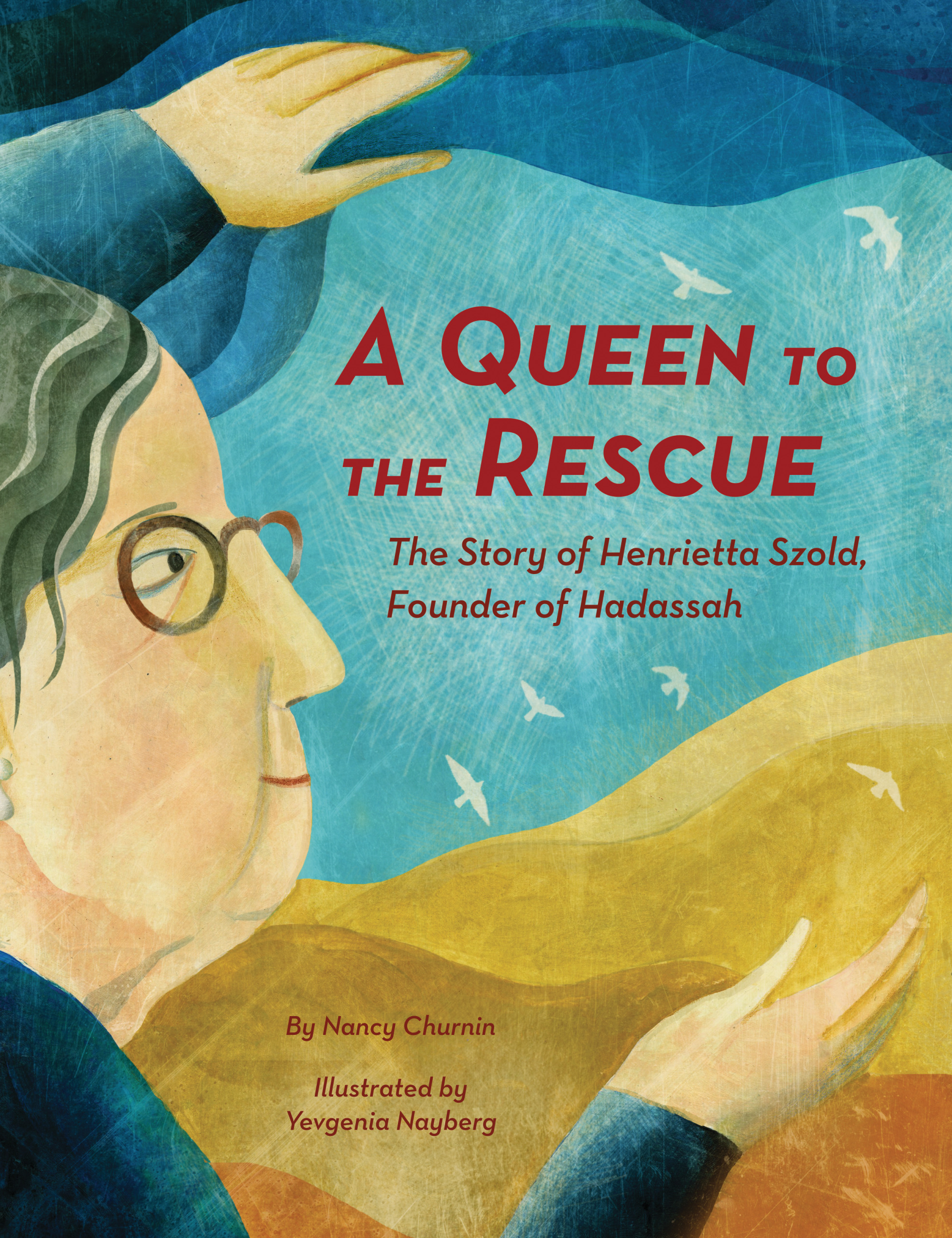 Dare to dream, and when you dream, dream big! – Henrietta Szold
A Queen to the Rescue: The Story of Henrietta Szold, Founder of Hadassah narrates the life of Henrietta as she grows up during the Civil War and becomes a humanitarian leader and advocate. When she was young, Henrietta admired Queen Esther, a woman who risked her life to save her Jewish community (the story behind the celebration of Purim). Henrietta believed everyone had the courage to stand up and make a difference. While growing up, she noticed women could only make a difference by getting married and having children, and so Henrietta decided she was going to do neither. Instead, Henrietta became a teacher after graduating high school in 1877. During this time, Henrietta saw how Americans were treating Jewish immigrants and opened a night school for adults to teach them English to get good jobs and advocate for themselves. She was fearless in pursuing her love for helping people and those in need.
When Henrietta saw a need not being met, she organized and worked until she made a difference. She became the first editor for the Jewish Publication Society in 1893 when there were not enough Jewish books. In 1912, Henrietta founded a charity called Hadassah that raised money to treat 5,000 children in Palestine. She also moved to Palestine to make sure everyone received healthcare, food, and education. By 1933, Henrietta was ready to retire but that was the start of when Adolf Hitler became the leader of Germany. Seeing how Jewish people were being discriminated against, Henrietta took action to bring Jewish children to safety. She got visas for 63 children and raised money for their passage, care, and schooling. Henrietta and her friends in Hadassah additionally saved 11,000 children in a program called Youth Aliyah. The children that Henrietta saved called her "ima," the Hebrew word for "mom." Henrietta not only advocated for others, but she also inspired women to stand up for themselves and make a difference in the world.
For ages 6-11, children will be encouraged to pursue their dreams and stand up for what they believe is right. In the last few pages of the book, children can also read more about Purim and the story behind this Jewish holiday. 
3. Hannah G. Solomon Dared to Make a Difference
By Bonnie Lindauer | Publisher: Lerner
"Women could make a difference in the world, if they dared to try." – Hannah G. Solomon
Hannah G. Solomon Dared to Make a Difference tells the story of a young girl who becomes an advocate for others, especially women and children, in Chicago and beyond. Being a daughter of German immigrants, Hannah was taught to help her community and that everyone deserves freedom and respect. She was 5 years old when the Civil War (1865) ended and lived through the Great Chicago Fire (1871) housing homeless people with the help of her family. In 1893, Hannah was invited by the planning committee of the Columbian Exposition, known as the Chicago World's Fair, to organize events for Jewish women during the fair. Although Hannah thought it would be a great idea to collaborate with the Jewish men's activities, they did not want women to play a huge part in the fair. Hannah would have none of it! Determined to bring influential Jewish women to the fair, Hannah wrote letters to rabbis all over the United States asking for names of remarkable women in their congregations and later wrote to each one of the women listed encouraging them to attend the fair. When the fair took place, Jewish women gave speeches to an overflowing audience!
The convention of women later encouraged Hannah to create a permanent Jewish women's group that focused on Jewish education and helping people in need, especially women and children. The group was known as the National Council of Jewish Women (NCJW) and Hannah was its first president. Despite harsh criticism, the NCJW helped convince local leaders to pass new laws to help the community with better housing, create the first free public nursery school, and also build public playgrounds for children. Later, Hannah helped start a community center called the Maxwell Street Settlement House for Jewish immigrants while her friend Jane Addams had already started Hull House, a community center focused on supporting immigrant women by providing classes, job skills workshops, and a space to socialize. Hannah along with her friends Jane Addams and Susan B. Anthony spoke out in favor of women's rights. In 1920, women were granted the right to vote although it was still difficult for women of color: It was not until a few decades later that women of color were allowed to vote.
Throughout Hannah's life, she continued advocating for women and children, especially Jewish immigrants. For children from ages 5-10, this book will inspire them to make a difference in the world by keeping true to themselves and their ideas. 
4. The Baseball Adventure of Jackie Mitchell, Girl Pitcher vs. Babe Ruth
By Jean L. S. Patrick | Publisher: Lerner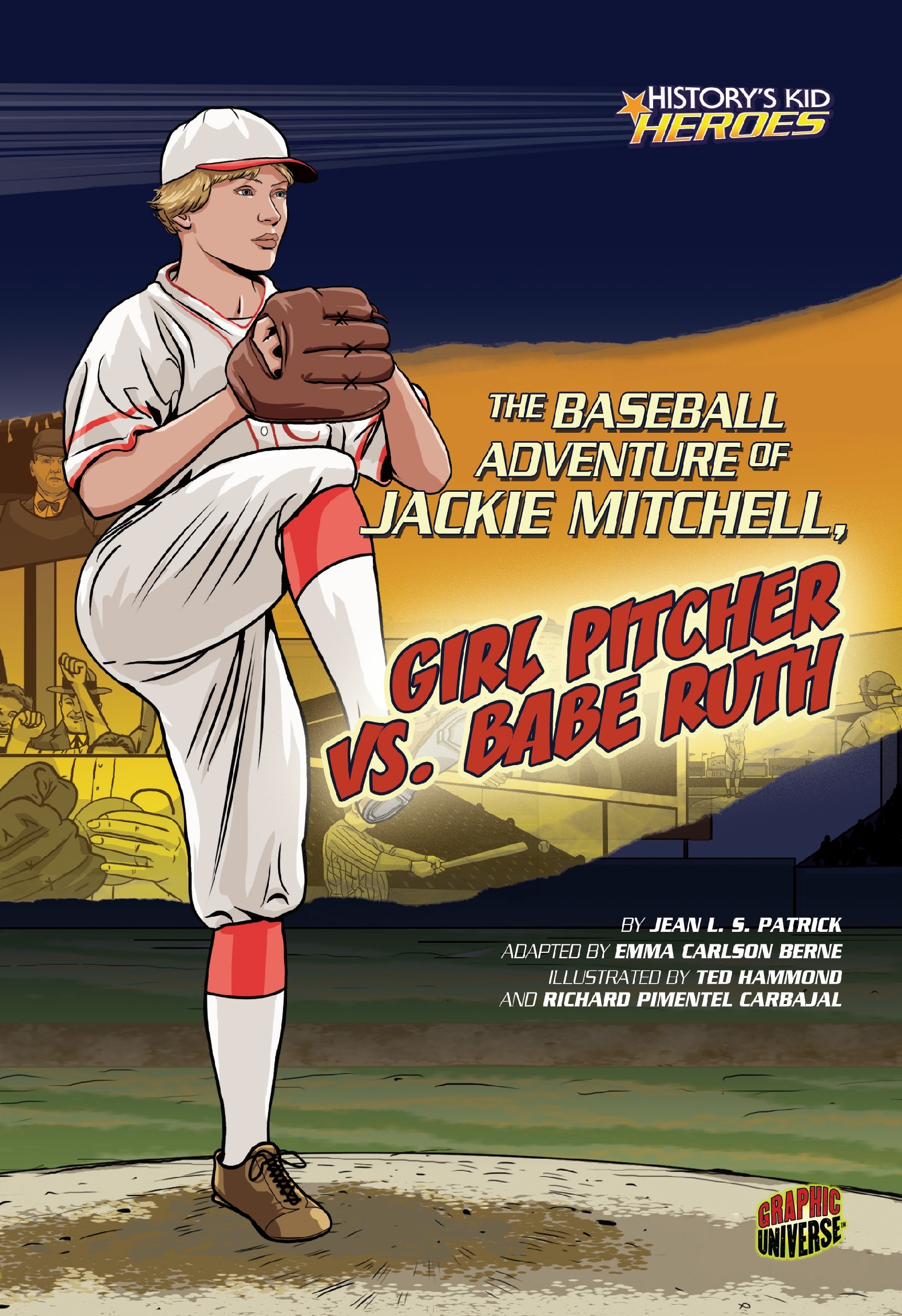 Strike one.. Strike two.. Strike three. You're out!
The Baseball Adventure of Jackie Mitchell, Girl Pitcher vs. Babe Ruth recounts the historical events that took place in Chattanooga, Tennessee in 1931. The first major event was when Jackie Mitchell, a girl pitcher, was signed to a minor league baseball team, the Chattanooga Lookouts, a men's baseball team. During this time, only a few women played sports and were not truly encouraged to do so. But Jackie's skills earned her a spot on a men's baseball team! During a preseason game, the Chattanooga Lookouts played against the New York Yankees. Jackie dreamed of facing against Babe Ruth at the plate, and this was her chance. When Jackie was about to pitch to Ruth, she reminded herself of her father's words, "Go out there and pitch just like you pitch to anyone else." With her father's support, Jackie focused on herself and what she really yearned- to show what she could do.
The second major event was that day, April 2, 1931, when Jackie struck out Babe Ruth and Lou Gehrig. Although the Yankees won the game, Jackie was in all the newspapers and received fan mail from all over the country. Despite Jackie's influence, Kenesaw Mountain Landis, who was in charge of professional baseball at the time, canceled Jackie's contract with the Lookouts after hearing about the strikeouts. Landis believed baseball was too tough for women, but Jackie continued playing baseball into the late 1930s and was not the only woman to do so! Jackie will always be remembered as the girl who struck out Babe Ruth. For ages 7-11, children, especially young girls, will be inspired to play sports they are passionate about, and if not, to pursue their dreams and not give up even if someone discourages them.
5. One Plastic Bag
By Miranda Paul | Publisher: Lerner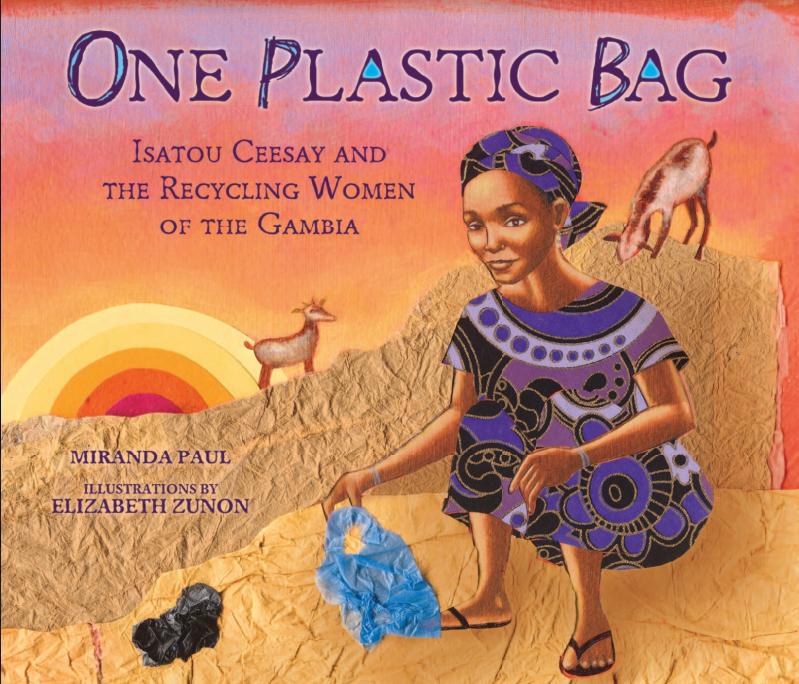 Reuse, Reduce, Recycle!
One Plastic Bag tells the story of a young woman, Isatou, who finds a way to recycle plastic bags and transform her community in Njau, Gambia to be free of disease and plastic bags. While Isatou is young, she does not realize the plastic bags are an issue until Grandmother Mbombeh's goats are being killed by them and gardens are not thriving. The plastic bags have also accumulated on the side of the roads, bringing mosquitoes and disease from the water pooled in them. Isatou wants to help Grandmother Mbombeh, so she sets out to pick up the plastic bags to wash and dry them with her friends not yet knowing what to do with the plastic bags. Isatou's sister then teaches her how to crochet, and inspires Isatou to make spools of plastic thread to crochet with the material and make recycled purses. Although some people in the village mocked Isatou and her friends, they believed in their cause to make their community a better place.
Isatou and her friends sold the recycled purses in a nearby city and some people did not like them at first, but then others started buying them and soon everyone wanted one! Today, Njau is much cleaner, goats are healthier, and gardens grow better. People from all over the world still purchase the recycled purses, and Isatou and her friends contribute some of their earnings towards an empowerment center: a space for community members to enjoy free health and literacy classes, as well as learn about the dangers of burning plastic trash. Isatou's courage and determination to make her community a better place led to other developments. The empowerment center became home to the region's first public library in 2012! For ages 5-9, children will learn about the importance of recycling along with the significance of dreaming big and making your dreams a reality. 
Conclusion:
Before we end the month of March, let's remember that the world would not be where it is without the dreams and hopes of young women for a better future- for equality and respect. We celebrate women's contributions to our society and all over the world! Holding on to their dreams, advocating for others, and even founding their own organizations to provide a need not being met, women carved a path for themselves and others to make a difference in their communities and the rest of the world. So let's encourage our children to dream big, and support young girls to be fearless while pursuing their dreams. Because with hope, dreams, and bravery, the world can become a better place!